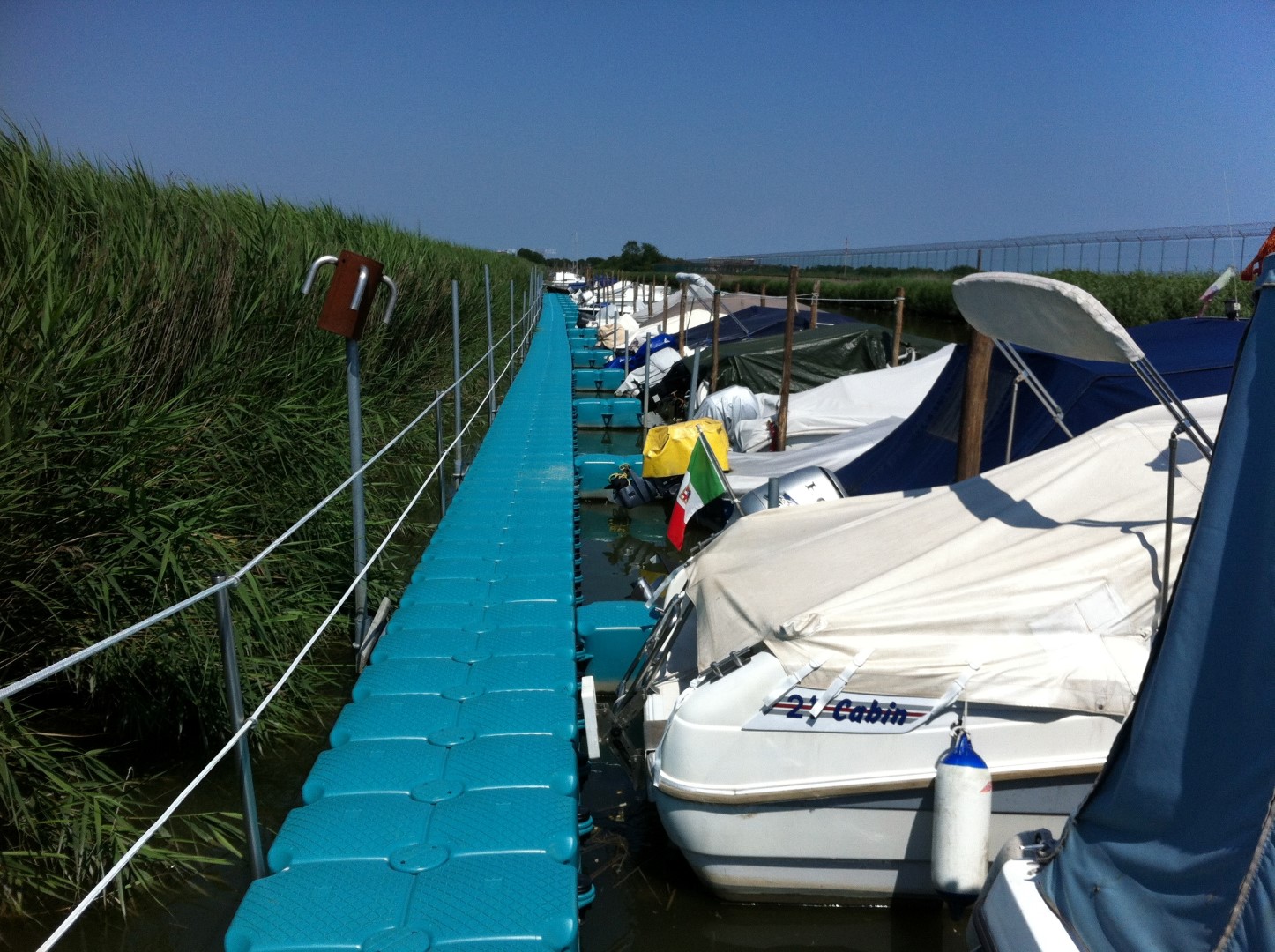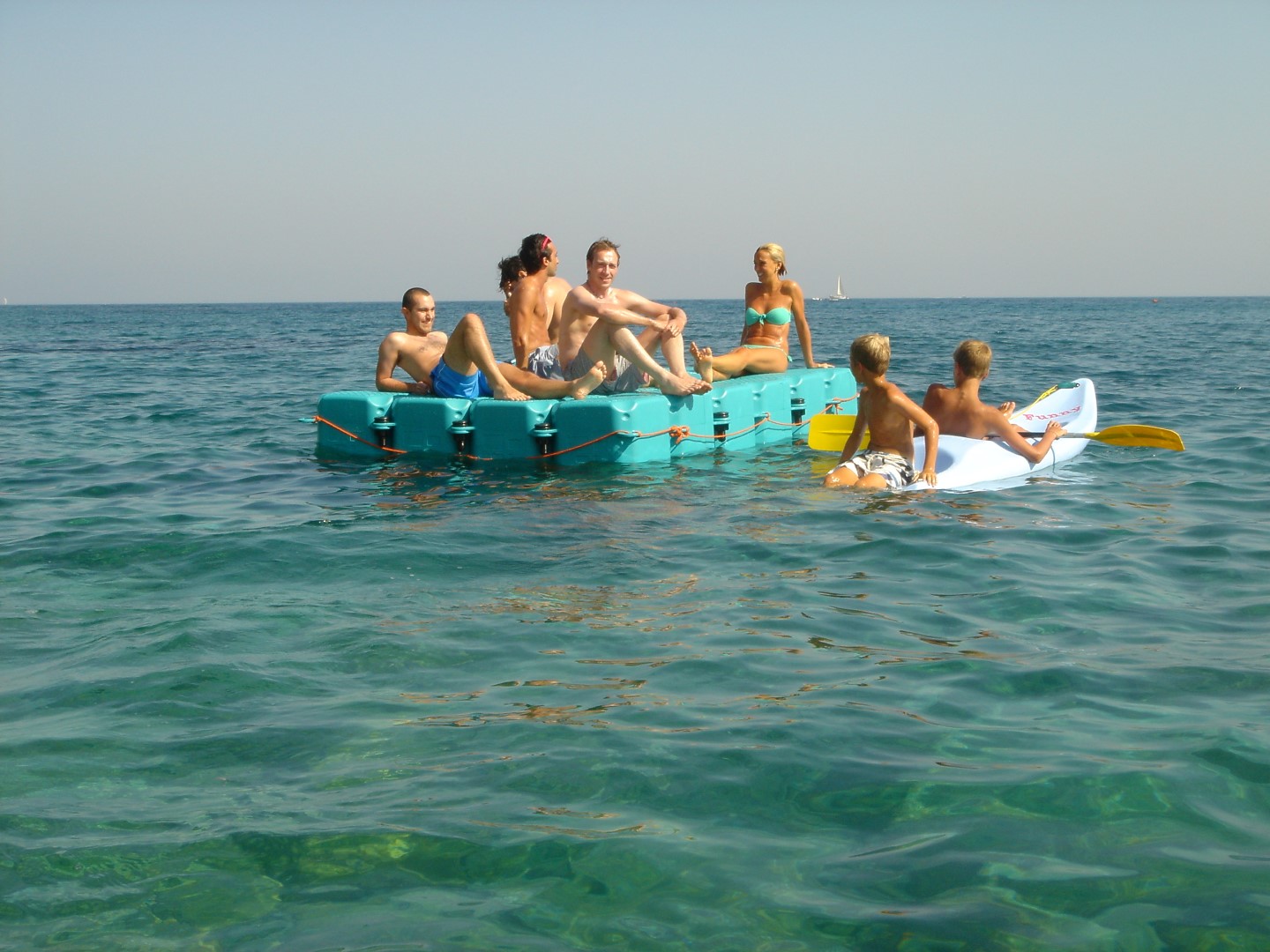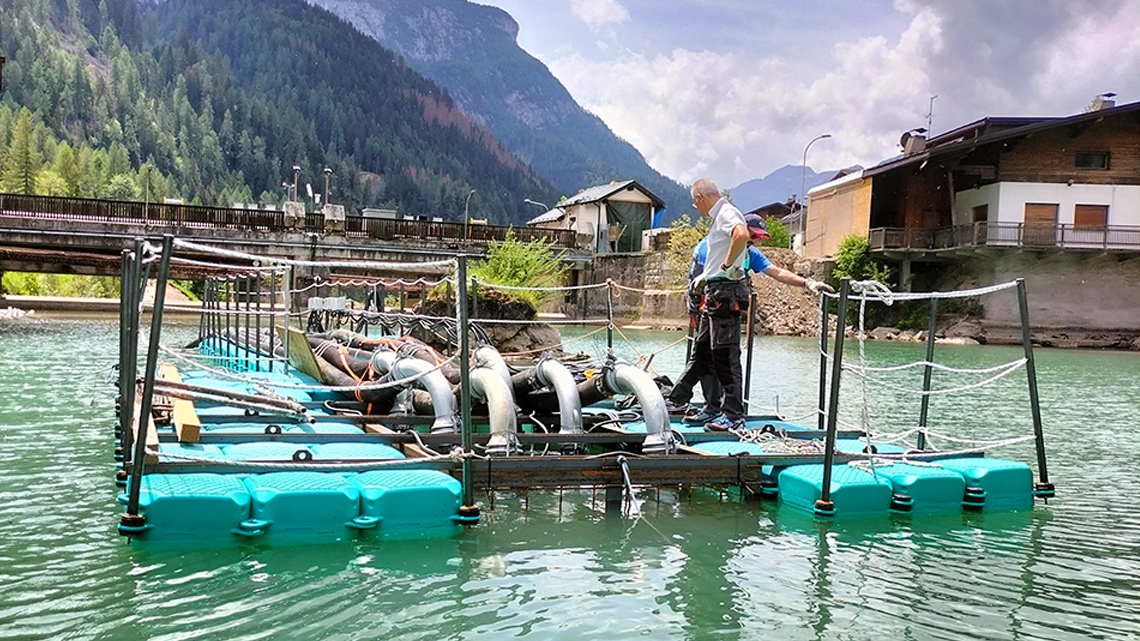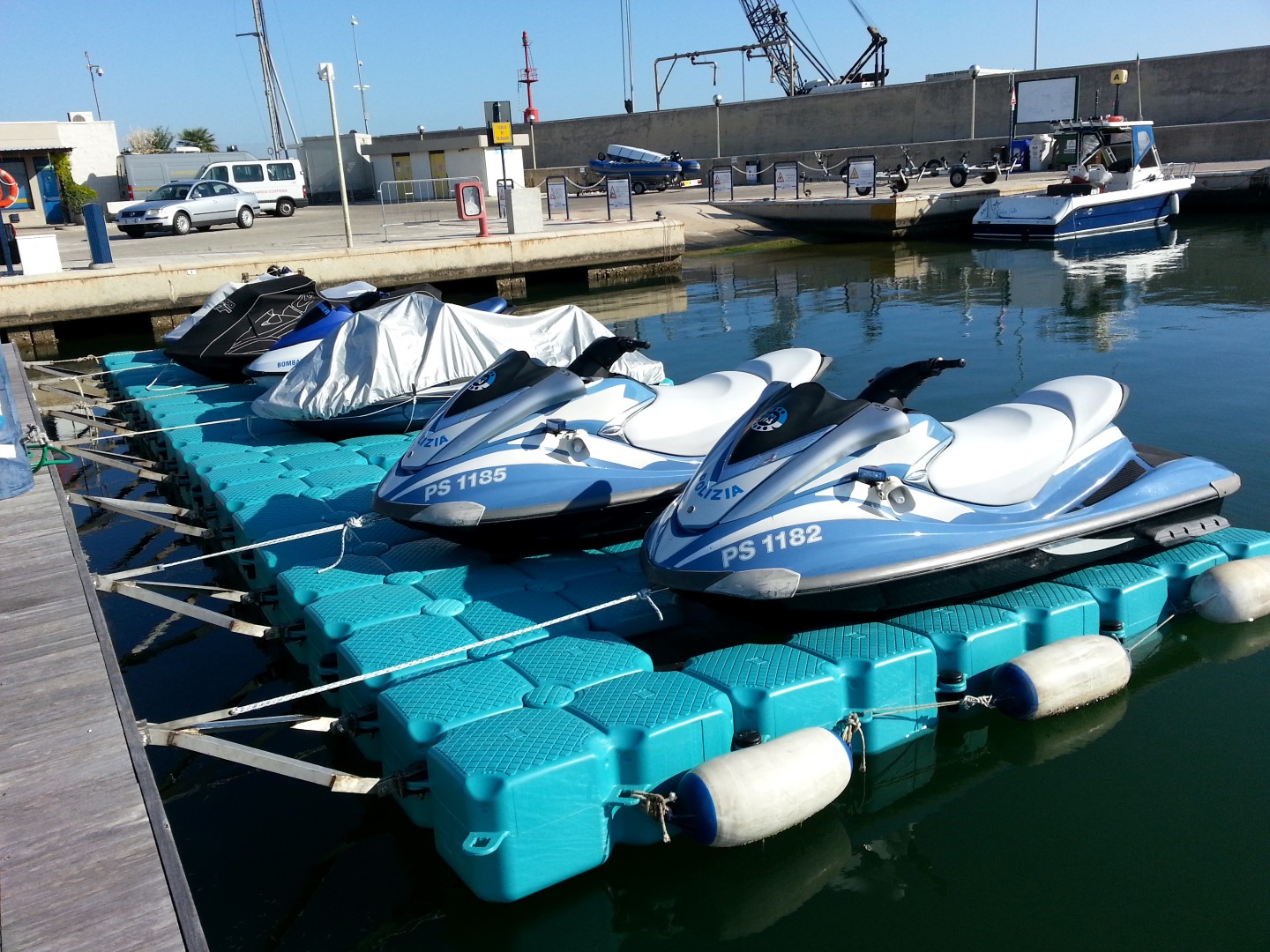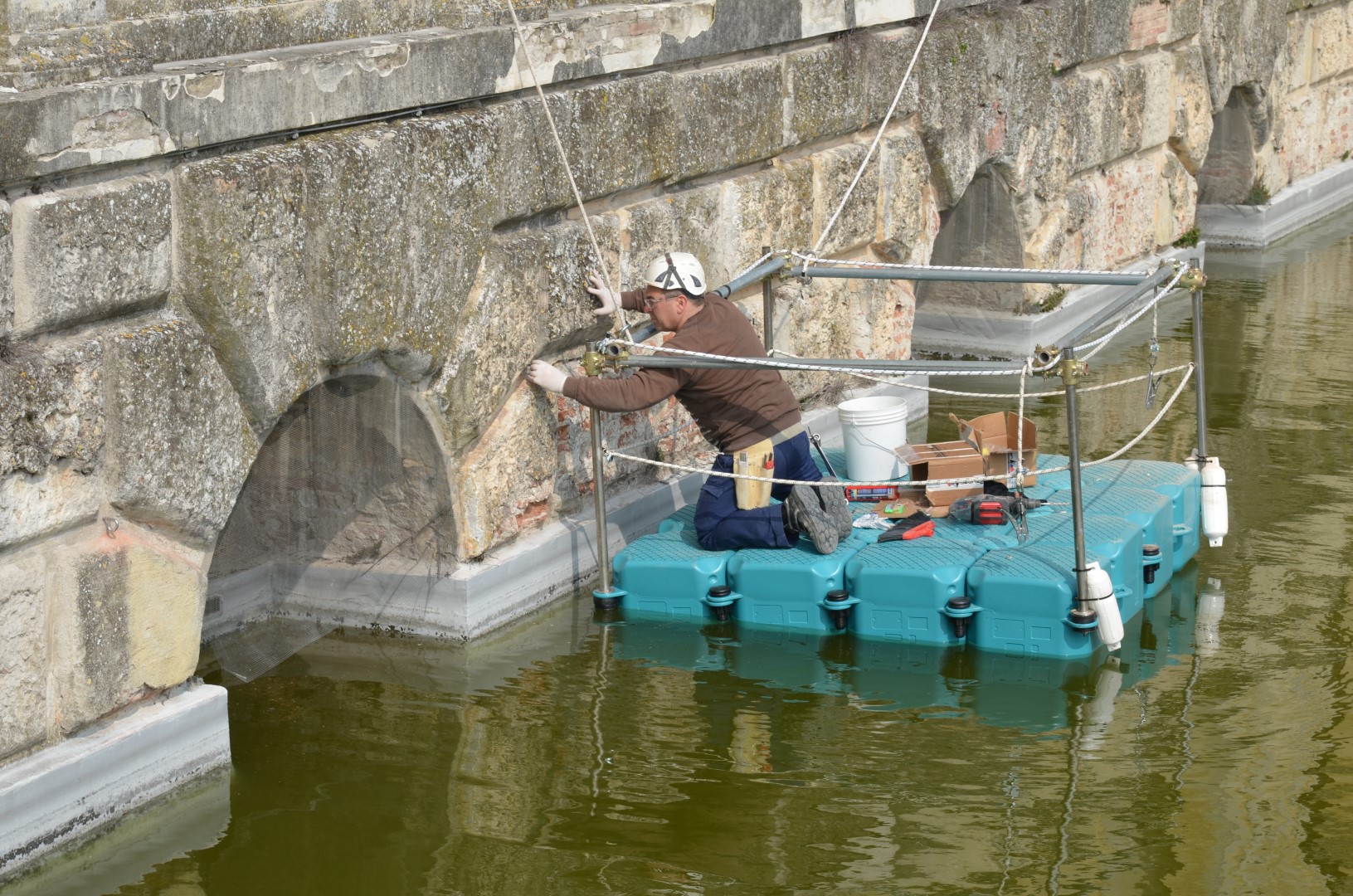 Otto modular floating elements, derived from a military patent, are in the RINA certification course and tested at the UNIVERSITY OF PADOVA.
They are made in turquoise color (for large quantities it is possible to change the color), a color that most of them are integrated with the color of the water and in two basic shapes:
Double Element (100x50x40cm)
Single Element (50x50x40cm)
Each block is made in a single air compressed molded that allows the high molecular density material to expand uniformly in the mold in order to have the same thickness everywhere.
Il materiale utilizzato si chiama POLIETILENE HDPE 56020 S della TOTAL
Density ISO 1183 = 0.952 g / cm3
ITALIAN CERTIFICATE Ministerial Decree of 21-03-1973 updated on 26-04-1993, D.M. No. 220 and updated on March 28, 2003 with D.M. N° 123.
This raw material, used for the construction of our elements, is extremely resistant to all marine stress, saltwater and acidic influences, and can also be used for food.
It is resistant to UV rays and is valid in a temperature range of -60° to + 80° degrees centigrade, also easily recyclable.
Their floating capacity is prudently defined in 350 Kg per square meter.
This product is guaranteed for a minimum of 3 years. (Photovoltaic systems 20 years).
The assembly between the various blocks is carried out through a connector that is to be rotated by 45 degree with a special key, joining the rings marked with 1 to 4 by locking them together to make the elements a single body, allowing the whole structure to float on the wave.
The treadmill is non-slip, specially designed to walk on even naked feet without losing grip and all edges are beveled to avoid risk.
The ergonomic form of all accessories, perfected over the years, allows many people around the world to have fun with our products, safely and without worries.
All modules are unique and therefore indivisible, vary in shape and size, they are solid, elastic and waterproof.
The modules have slots that allow them to join together to build all imaginable shapes and can be separated in view of their reuse.
It is their ease of assembly, dismantling and storage to make them famous all over the world for the simplicity with which it is possible to realize floating platforms of any size and shape.
Try thinking about building a rectangular jetty to get on a boat but then change your mind and want to make a small raft to put into the sea, with our products you do not have to give up on either of them, just disassemble the elements and reassemble them according to yours need. And if a tomorrow you want to enlarge or improve the platform, just take the items you miss.
With Otto's modular floating elements it's easy to make:
– Protective barriers
– Wave attenuators
– Marinas
– Piers
– Aquaculture
– Fish farmin
– Events on the water
– Floating platforms
– Floating pools
– Floating pools with purified water
– Floating photovoltaic systems
– Bathing facilities
– Floating walkways
– Rafts
– Pontoons
– Playgrounds on the water
– Shipyards
– Fireworks
– Marine inspection works
– Floating roads
– Marine works
– Floating golf playground
– Acceleration lanes
– Water ski trampolines
Also remember that all accomplishments are fully integrated into the environment, as they are removable, do not have any environmental impact as they can be removed without leaving track and reused for other uses.